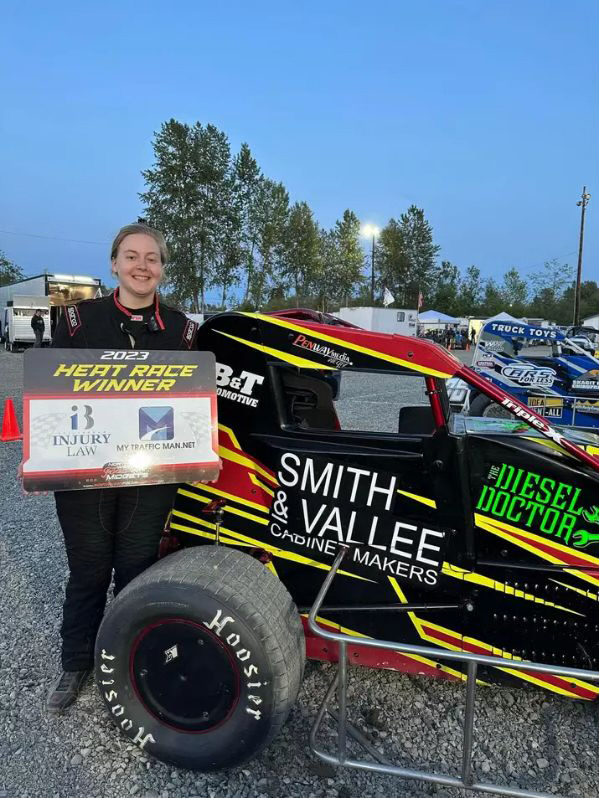 Our General Manager, Tyler Thompson, joined us at Smith & Vallee Cabinet Makers a few years ago. One of the first things we learned about him (that didn't involve cabinet making) is that his family is dedicated to racing cars – and his sister Ashley Thompson is a badass driver. Ashley and her twin brother started driving at 2 years old, following in the footsteps of their father and older siblings. She is now the only one in her family who races, and her pit crew is her heartwarmingly supportive family.
Ashley's father, Mike, is a mechanic by trade and does all the work keeping her car running fast. Her brothers and boyfriend are always polishing and wrenching something on the car between heats, with pep talks coming in fast and furious, and her mom is always the one cheering the loudest and running the fastest from the stands to the pit between races.
When Tyler asked us to sponsor his sister's car, the whole Smith & Vallee crew was in – and you'll likely see a handful of us at the speedway on the weekends cheering her on! Check out the NW Midgets racing schedule and cheer on #41, one of the only women out there racing, calmly winning, and generally being awesome.
It's worth it to buy a pit pass when you're at the races. Be sure to peek in the trailer parked behind Ashley's car to see our custom cabinetry, working hard stowing all the gear.